||| Co-operative Building |||
---
||| Links |||
---
Civic and architectural organisations:

Huddersfield redevelopment proposals:

Listing:

Press articles:

Shell structures:

Supporters:

Tiles and ceramics:

Related:

||| home |||
---
||| Felix Candela |||
---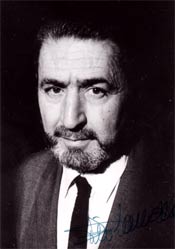 Felix Candela
Image © Christopher Marsden
Felix Candela did not invent the concrete shell nor was he the first to use hyperbolic parabaloids, but he was the all time greatest practitioner of shell design. His light, audaciously thin structures revealed an engineering of great sophistication. His name has become synonymous with the hyperbolic parabaloid (hypar).

His development of the hypar umbrella with four tympans was groundbreaking for architects and engineers and highly influential. This influence is clear in the Queensgate market, however we have not found any record of a Candela building with glazing between freestanding umbrellas. Queensgate market appears to be unique.

Felix Candela was born in Madrid 7 Jan 1910.

Architectural training in Madrid graduated 1935.

Athlete: 1932 Spanish national champion, 1934 captain of Spanish national champion Rugby XV, champion triple jumper, enjoyed rock climbing.

In 1936 he was awarded a travel scholarship having won it with a thesis called "The Influence of New Trends in Reinforced Concrete" He decided to go to Germany but the outbreak of the civil war led him instead to join the republican side of the Spanish Civil War, where he became a Captain of Engineers. After a retreat into Spain he was imprisoned in Perpignan concentration camp.

In 1939, out of 70,000 he was one of a few hundred prisoners offered a place on a Society of Friends chartered ship that took him to Vera Cruz, Mexico arriving on 13 June 1939.

1939: developed work as an architect. From 1949 he built, designed or engineered hundreds of ferro concrete structures.

1949: built his first shell - an experimental vault in San Bartolo.

1951: Cosmic Rays Pavilion, his first hypar shell.

1952: his first experimental umbrella hypar shell.

1954: first umbrella shell warehouse; 36 umbrellas 32' x 49' tilted to allow north light.

1955: built Coyoacan market, Umbrellas with black columns and white shells.

29 June 1961: awarded the gold medal of the institution of Structural Engineers.

1962: Was a consulting engineer for the John Lewis Partnership distribution centre warehouse in Stevenage UK.

Many of his buildings had humble functions as granaries, factories and warehouses. Amongst his famous works are, a hotel and apartments in Acapulco in association with Bringas (1940); Medalla de la Virgen Milagrosa Church) México D.F., (1953); Nuestra Señora de la Soledad Chapel México D.F. (1955); Los Manantiales Restaurant México D.F. (1957); Open Chapel in Lomas de Cuernavaca México (1958); San José Obrero Church Mexico (1959); The Sports Palace for the XIX Olympic Games ) México D.F. (1968).

Died North Carolina, United States 7 December 1997.


---
Further reading

FABER, COLIN; Candela: the shell builder, Architectural Press; London; 1963
||| Gallery |||
---
Market Hall:

Virtual Market Hall: