home ||| superimposed city tours ||| research: leeds |||
---
| | |
| --- | --- |
| Psychogeographical mapping of coincidence in Leeds and Dortmund. Drifting through superimposed narratives of two cities at once. | |
---
||| leeds city museum |||
---
Just before midnight the Luftwaffe arrived and scattered explosives and incendiaries across the city. There was considerable panic as 4,600 houses, the museum and Town Hall were damaged. Casualty figures were often obscured in wartime to deny the Germans propaganda material but post-war records suggest 65 people were killed that night and 260 injured, 56 of them seriously.
http://www.applied-technologies.co.uk/ljcc2002/cityofleeds.htm
The worst raid was on 14 March 1941, when shortly before midnight high explosives and incendiaries were showered over the city. The telephone system was put out of action immediately, the waterworks and gas supplies were affected... some damage to the City Museum and the Town Hall, 4600 houses damaged (100 of them beyond repair) and 65 or 64 dead, 56 or 57 seriously [injured] and 202 or 203 slightly wounded.
Owen A. Hartley, 'The Second World War and after' in Derek Fraser (ed), A History of Modern Leeds, P443
A bomb damaged the Town Hall (shortly before its clock struck midnight on 14 March 1941) and the City Museum. Those who passed the smouldering museum after the raid recalled a scattering of mounted butterflies from the collections. A dug-out boat that to life when Giggleswick Tarn was drained was blown into aqbout 45 pieces (later to be painstakingly reassembled for exhibition in a special case with art-work to evoke the original setting).
W.R. Mitchell, A History of Leeds, P143
---
||| offsite: articles |||
---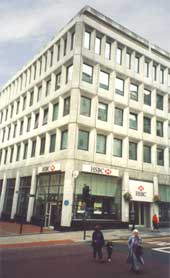 ||| Site of City Museum, 09/02 |||