home ||| superimposed city tours ||| research: leeds |||
---
| | |
| --- | --- |
| Psychogeographical mapping of coincidence in Leeds and Dortmund. Drifting through superimposed narratives of two cities at once. | |
---
||| leeds 1940 |||
---
I remember quite vividly the night the Ambulance Brigade and the Red Cross were called out to the City Station to help support all the medical and nursing personnel available to meet the hospital trains bringing the wounded from the Dunkirk evacuation. It was a terrifying experience, transferring the casualties from the trains to waiting ambulances en route for local hospitals. The smell of burnt flesh and the sight of broken bodies remained with us for a very long time. We were so inadequate and not well trained enough to do much else but offer comfort, tea and sympathy and blankets to those poor lads. We felt so useless and more than ever realised the futility and waste involved in fighting a war. There can never be any winners ..
http://www.glass-artist.co.uk/famtree/ld/myself2.html
There is some confusion in written records over whether the first air raid happened on the last night of August, or the first of September. It's mentioned as 1st September in some cases, but this may indicate it happened in the early hours. I'm trying to clear this up.
The first [air raid] in August 1940, killed 4 and injured 13 and led to some minor panic, as those who had not prviously applied for air raid shelters now did so urgently and met with a cool response from the city authority.
Owen A. Hartley, 'The Second World War and after' in Derek Fraser (ed), A History of Modern Leeds, P443
The first raid on Leeds by the Luftwaffe. An estimated 3000-4000 incendiaries and 14 high-explosives fell on the city.
http://www.applied-technologies.co.uk/ljcc2002/cityofleeds.htm
Coolness in raids on N.E. Towns

Windows in [Quarry Hill] Flats Shattered: [St. Patricks] Church Damaged

In an industrial area of a North East town bombs fractured a gas main early yesterday morning and started a fire which caused a brilliant blaze until it was quickly subdued. A modern inn nearby was severely damaged, and older premises on the opposite side of the road which it replaced were demolished and the ruins set on fire. A lock-up shop nearby was also hit and burnt out.

In this raid one civilian was killed, and among other casualties was an air-raid warden who lost a leg.

The fronts of a row of shops, with dwellings above, were blown out but only minor injuries were sustained by the occupants. Flying glass caused slight injuries when thousands of window-panes were shattered in a block of [Quarry Hill] flats in the vicinity. [St. Patricks] Roman Catholic church, school and presbytery suffered damage. A warehouse was also affected by blast and a cartage office in the yard completely wrecked.

... The local authority quickly found alternative accommodation for 14 families affected by the damage to the [Quarry Hill] flats and other rendered temporarily homeless.
Yorkshire Post, 02/09/40
---
Heaviest Raids on Britain

Night Bombing of North
Store Set on Fire

During the first attack - made just as the town's amusement places were emptying - a large store, a chapel, and a cinema were struck... Subsequently, bombs were dropped on industrial premises, [St. Patricks] church - which suffered a direct hit with high explosive...

A large audience at the cinema had a remarkable escape. The bomb which struck the building fell within about 10 minutes of their departure. It penetrated the roof and fell in the popular part of the cinema, but the place was empty and no casualties were reported.

No one was injured at the [St. Patricks] presbytery or the nun's house adjoining a demolished Roman Catholic church.
Yorkshire Evening Post, 02/09/40
War Weapons Week. Leeds was the first city to have a 'War Weapons Week'. It was set up to raise money for the armed forces, its target being 250 bombers. City Square hosted the event. A large 'Barometer Board' in the square gave a visual illustration of how many bombers had been bought.
http://www.applied-technologies.co.uk/ljcc2002/cityofleeds.htm
---
||| offsite: articles |||
---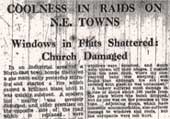 ||| Yorkshire Post, 02/09/40 |||