||| monomusic |||
---
Record reviews:

Live reviews:

Articles:

home ||| monomusic |||
---
||| farmersmanual and klipp av @ Ultrasound, Huddersfield, 27/11/2004 |||
---
The bar at the Media Centre is a minimal affair, with an air of cool chic resembling an odd kind of fusion between a Scandinavian sauna and an American diner. For three days it played host to some of the most talented, and some of the most frustrating, artists in the weird world of laptop and other electronica.

I wandered in on Friday at the tail end of a vast electronic scream, with screens flickering black and white static, lines and crazy shapes across an audience rooted to the spot by its intensity. Looked like it was going to be a good night...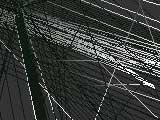 klipp av took to the stage a while later and started slowly. Tweaks, bleeps, scrapes and glitches built up. One screen played mutated takes from live video recording, the other showed code being written, manipulated, cut and pasted. This was being done in real time, live code constantly shifting audio parameters, something to do with the TOPLAP Manifesto it says in the program.

Then, bang! The whole thing tore into orbit, wild drum and bass snare snaps cut across by feedback disturbances, a psychedelic teddy bear on screen, code rushing to increase the intensity yet more. One of them got up and started pogoing frantically, and still the pressure built. Back through a nest of glitches to a massive ear bleeding drone, more sharp stabbing beats.

A fantastic performance, and something you definitely must see live - I asked if they have CDs and was told they don't believe in concrete product, or something like that.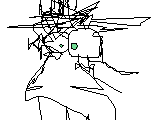 farmersmanual followed, a trio of serious looking blokes hunched over laptops. Their set didn't have the untamed feel of klipp av, but it certainly had the intensity. Glitches, soundbombs, scribbles and bass blasts characterised a landscape that moved from spartan interludes to complex, rapidfire chittering interactions. Moments of introspection sparred for attention with ugly blasts of random noise, as if the machines were going wrong and had something to say about it.

It was a brutal performance, moments that could have gone somewhere tossed aside carelessly, kicked away by new upstart beats or smacked up against walls of noise that came out of nowhere to tell you they've arrived. They sent me home with a DVD that runs for 18 minutes and shows them smashing a door. Rude bastards, I like them.
---
References
---
||| currently listening to |||
---
William S. Burroughs - The Instrument of Control [Archivio Letterario]
Miles Davis - In A Silent Way [Columbia]
Bill Dixon - In Italy [Soul Note]
Will Gaines & Derek Bailey - Rappin & Tappin [Incus]
Guided By Voices - Alien Lanes [Matador]
Choi Joonyong - White Disc Ver.2 [Balloon & Needle]
Merzbow - Eucalypse [Soleilmoon]
Taku Sugimoto & Annette Krebs - Eine gitarre ist eine guitarre... [Rossbin]
Ryu Hankil, Jin Sangtae, Choi Joonyong - 5 Modules I [Manual]
Choi Joonyong, Hong Chulki, Sachiko M, Otomo Yoshihide - Sweet Cuts, Distant Curves [Balloon & Needle]