||| monomusic |||
---
Record reviews:

Live reviews:

Articles:

home ||| monomusic |||
---
||| John Richards @ GEMdays, Huddersfield, 28/01/2009 |||
---
GEMdays, "5 days of sonic exploration", takes place at the University of Huddersfield. It's pretty much focused around electronic music of one sort or another, and also seems to have a heavy emphasis on improvisation. This year it's all happening in the new Creative Arts Building that dominates the southern ringroad

The opening night sees electroacoustic artist John Richards take to the stage, a space filled with DIY electronics, wires, candles, a meat grinder, silver wig, mysteriously modified baked bean tins and other paraphernalia. The set up looks great. John pads quietly under a big screen and onto the stage.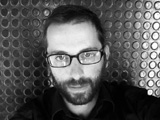 He's an unassuming looking fellow, and his first piece - a collage of hiss, fuzz, crackles and other electronic noises coaxed from only a small subset of the gear onstage - gives little indication of the subtle humour and wilful eccentricity to follow.

He takes his shoes off. Introduces himself. Then coaxes clicks and whirrs from lit candles. Follows this by opening up into a fantastical improvisation that begins to tear fearsome noises across big bass disruptions that almost suggest a beat. But this is music that keeps you on your toes, doesn't allow you to relax into a steady knowing head nod. Then he's feeding polystyrene into a meat grinder and the realisation begins to dawn that there's an anarchic, playful mind at work here.

The tins follow, played by students who I presume went to a workshop beforehand. They're called Sudophones - check out John's website for instructions - and kind of sound like wind-up multispeed baby wail generators. Things are getting odder. John invokes Fluxus and follows with a piece for silver wig and hairdryer. Then he's pumping expandable foam into a balloon, a very short act that produces a condensed explosion of sound.

If you think this all sounds wild, untrammelled and hectic you'd be surprised. It's certainly untrammelled, but the delight is very much in its steady pace and the almost ordinary way in which such strange goings on are presented. In this alone, Fluxus is very much in evidence. John is also a very convivial host. He introduces some pieces, occasionally mutters to himself, and displays very dry humour in his interactions with the audience.

The finale is introduced as 'Piece for touchplate, ink and music' and John proceeds to spread ink onto an etched plate, a process that generates at first subtle, then fearsome noise as he takes a roller to it. Hands, ink and plate are filmed and fed onto the big screen by his side. I was reminded of other footage, only distantly recalled, and an artist fondly remembered - was this a tribute to Tony Hart? I didn't ask, but left feeling like I'd witnessed an unexpectedly inspirational and enjoyable happening.
---
References
---
||| currently listening to |||
---
William S. Burroughs - The Instrument of Control [Archivio Letterario]
Miles Davis - In A Silent Way [Columbia]
Bill Dixon - In Italy [Soul Note]
Will Gaines & Derek Bailey - Rappin & Tappin [Incus]
Guided By Voices - Alien Lanes [Matador]
Choi Joonyong - White Disc Ver.2 [Balloon & Needle]
Merzbow - Eucalypse [Soleilmoon]
Taku Sugimoto & Annette Krebs - Eine gitarre ist eine guitarre... [Rossbin]
Ryu Hankil, Jin Sangtae, Choi Joonyong - 5 Modules I [Manual]
Choi Joonyong, Hong Chulki, Sachiko M, Otomo Yoshihide - Sweet Cuts, Distant Curves [Balloon & Needle]