||| monomusic |||
---
Record reviews:

Live reviews:

Articles:

home ||| monomusic |||
---
||| Bloc Party: EP |||


[Dim Mak]
---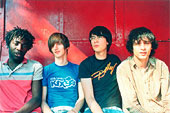 Bloc Party have garnered ecstatic reviews in the UK music press for their 3 singles to date. Now they're taking the party across the pond with the release of a new US only EP.

Angular new wave they call it in New York Magazine, and they're quite right. Bloc Party marry punk urgency with rude funk, brisk guitar chops and oh so danceable beats in near perfect cohesion. Declamatory vocals and regular bursts of ecstatic feedback keep the pace up.

It's just very, very exciting, the kind of kick up the arse indie needs every so often to remind itself there's no reason to go overground to get your kicks. The 6 songs on this EP are far removed from mainstream dilution, though the storm generated by a stomper like opening track Banquet should carve them a space on any discerning dancefloor. There's a pared back, beat-focused remix of Banquet that is really difficult to sit down to.

Where are the reference points? Well, culturally this bunch seem pretty smart. They're into Ivan Illich and Bertrand Russell, and their name itself is a cunning reference to both Soviet-era terminology and dance parties. Musically they are being cast as part of a wider movement that includes Franz Ferdinand and seems to date from the moment The Strokes hit town. If this is the angular new wave scene, then the angles being traversed by Bloc Party are far more awkward and convoluted than many of their peers. A song like The Marshalls Are Dead is reminiscent of A Witness, or even those old Peel favourites Bogshed for much of its length. Then in kicks a full on glorious guitar attack that threatens revelatory psychedelic heights, before dropping back to allow the song to end with dignity. The Answer on the hand is a singular breakneck attack, while Staying Fat opens up with duelling vocalists over a wonderfully awkward composition that wouldn't feel out of place on a late 80s Fall album.

So, back to those angles. Bloc Party turn corners through some of the weirder 80s attempts to infuse funk and indie (anybody remember Slab? The MacKenzies?) and inwardly digest but mostly ignore 90s Britpop. On this EP they spit out a ragged mix of wilfully bolshie chops and changes that in less astute hands would make for difficult listening. Perhaps they're so damn danceable because one of them sounds a bit like Terry Hall and I just can't get an image of them charging around like The Specials out of my mind!

Coming to a block party near you...
---
For more information about Bloc Party, check out their website www.blocparty.com.

Dim Mak have their own website: www.dimmak.com/.
---
||| currently listening to |||
---
William S. Burroughs - The Instrument of Control [Archivio Letterario]
Miles Davis - In A Silent Way [Columbia]
Bill Dixon - In Italy [Soul Note]
Will Gaines & Derek Bailey - Rappin & Tappin [Incus]
Guided By Voices - Alien Lanes [Matador]
Choi Joonyong - White Disc Ver.2 [Balloon & Needle]
Merzbow - Eucalypse [Soleilmoon]
Taku Sugimoto & Annette Krebs - Eine gitarre ist eine guitarre... [Rossbin]
Ryu Hankil, Jin Sangtae, Choi Joonyong - 5 Modules I [Manual]
Choi Joonyong, Hong Chulki, Sachiko M, Otomo Yoshihide - Sweet Cuts, Distant Curves [Balloon & Needle]